Snap Dragon Design, based out of Bellevue, Washington is known as one of the premiere skirt-makers in the paddling industry:
"We are avid participants in the worldwide sport of kayaking. Our distinctive designs arise from personal experience as well as through feedback from our customers. We seek to improve performance and comfort with the latest construction features and materials."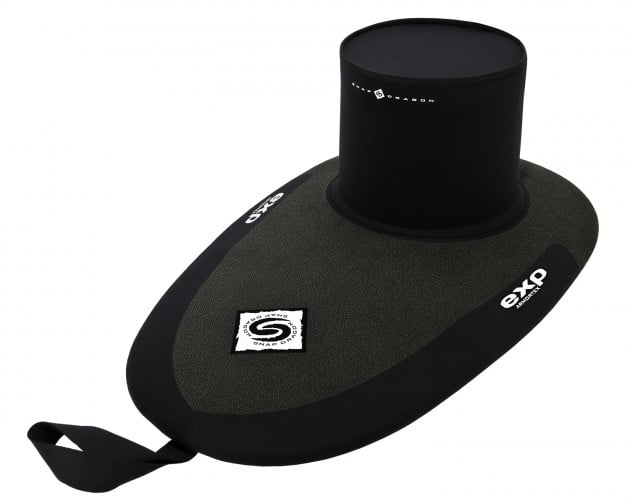 Designed specifically for paddlers who place high demands on their equipment, the Snap Dragon Whitewater Armortex EXP is my skirt of choice for both playboating and creeking. I have used this skirt since 2002, and have yet to have my skirt implode (knock on wood!).
The Basics: The skirt features a 3mm neoprene anatomically shaped oval tube, and a one-piece 4mm armortex neoprene deck, with unmatched abrasion and impact resistance. This one-piece construction means there are no seams, producing a stronger, more flexible deck. In addition, the skirt features a reinforced rim, heat-welded to the deck. This provides added durability in high wear areas along the edge of the cockpit, and sides where you pfd touches your skirt. Finally, the skirt features a heavy-duty extreme bungee, and a 2″ webbing grab loop. All skirt seams are heat taped and sealed inside and out.
The Fit:Â The bungee skirt fits an array of cockpit shapes and sizes, creating a tight seal on every boat I have had the opportunity to try it on: Â WS Diesel 80, WS Habitat 74 and 80, WS Project 45, WS Project X 48, LL Pocket Rocket, Dagger Kingpin 6.1, and LL Huck. Just like any skirt, when new, the skirt is somewhat difficult to put on. However, after a few uses, it goes on easily, creating an instant seal around the cockpit.
Optional Accessories: Implosion Bar
Tube sizes: xs 26-28″, s 28-30″, m 30-32″, l 32-34″, xl 34-36″, xxl 38-40″
Deck Sizes: xs,s,m,mL,L,LL,xL,xLL,xxl,c1,c1xL
Overall: Based on my paddling experience, I truly believe Snap Dragon's Whitewater Armortex EXP is one of the best skirts on the market. Made with the latest in innovative construction materials and designs, this skirt is very durable, and provides a tight seal on most cockpit rims.