"Safety is no accident."  This has become my dad's signature farewell as I tell him we are headed to the river.  I have grown to love this simple reminder.  The beautiful unpredictability of life allows ANYTHING to happen; there is no combination of paddling skills, comfort level, familiarity with a run or karma that will prevent accidents.  Our greatest defense is proactive preparedness. Our safety precautions allow us to enjoy and progress in our river drifting passions and as successful paddlers we need to move beyond the "Big 5" (skirt, paddle, helmet, PFD, boat) and bring more safety equipment!
Safety equipment includes what you wear and what you pack, research it, spend money on it, practice with it and bring it with you every time you paddle.  Most of us love sitting on a beach or around a fire talking about gear, and doubly so with safety gear!
While on the river, these items should be on your person!
Rescue PFD:  The quick release waist belt allows for much easier boat towing and rescue options.  Practice towing boats and know when it is safe to clip onto another boat.  PFD front pockets also allow for easy storage of items such as a rescue mask, sunscreen and snacks.
Whistle:  When communication is difficult a whistle can get the attention you need.  1 blast=attention 2 blasts=upstream and 3 blasts=emergency (In addition; talk to your group about hand signals)
Knife:  I believe in the old saying, if you (or anyone you're with) carry a rope, carry a knife.
Waterproof Watch:  It is important to have the time of day…and the day of the week.
Shoes:  The best river shoes are shoes!  Lace 'em up and scramble on.
Dry Suit:  This is the most effective piece of safety gear you can own.  Protecting yourself from cold injuries will make you much happier and a much more effective rescuer.  Plus if you're hot on the river…you're need is some roll practice.
What you pack in your kayak!
Plenty of drinking water:  Staying properly hydrated, especially while out under the sun, keeps you sharp.
Throw Bag: There are a lot of options and some great tutorials on how to choose and how to throw a rope.  The most important thing is that you PRACTICE throwing your throw bag!  Practice on shore and practice in moving water.  Like any hand-eye coordination accomplishment, it requires repetition in order to be successful.  Watch for wear or weak spots in your rope and replace it when appropriate.  To increase the life of your throw bag allow it to dry out and keep it out of the sun.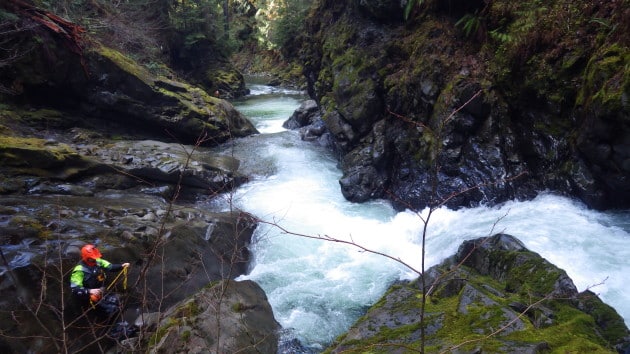 Rope ready at the downstream safety
First Aid Kit:  Personal First Aid kits are unique, take pride in yours.  You can get a pre-made kayaker specific kit or save a bit of money and build your own.  Start with a small pelican case or small dry bag and fill it with all the goodies you need.  Remember to periodically, review and restock your supplies.
Here are a few suggested items to help get your kit started:
Wilderness First Aid Book—Great resource in any situation
Emergency Blanket—Avoid hypothermia
Biohazard Gloves—Body Substance Isolation (BSI)
Syringe—Cleaning Wounds
Tweezer—Cleaning Wounds
Small and Large Bandages
Tegaderm—Great waterproof dressings
Gauze
Alcohol Swabs—Cleaning wounds
Steri-stripes/Super glue—Wound closure
Trauma Shears—Cut clothing when necessary
Ace Bandage
Pain Relief pills
Aspirin—can help with heart attacks
Antihistamines—For allergic reactions
Triangular Bandages—Perfect for slings
Safety Pins
Athletic Tape
Duct Tape
Aquaseal
Moleskin
Extra Drain Plug/Wine Cork
Lighter
Wag Bag
Hand Sanitizer
Pencil and Paper
Break down paddle!  I have forgotten my paddle, I have friends that have forgotten their paddles, paddles have flown out of trucks and paddles break (most often on shore).  It is worth it.  Carrying a breakdown paddle beats carrying your boat out of a run.
Storage float bags:  These allow you to pack all those extras that make a world of difference.  Start by ensuring care for yourself through appropriate attrite and snacks then have the ability to make someone's day throwing in an extra granola bar and an extra layer of warm clothing, gloves, hat, emergency shelter , you name it!
Unpin Kit:  Review the mechanics of unpinning a boat and have these items with you. 
1-Throwbag
15′ of 1″ tubular webbing
2- 8′ sections of 5-mm prusik cord, each tied with a double fisherman's knot
2- Locking Carabiners
2- SMC rescue pulleys
 Take-out:  If you are a shuttle driver it is a great idea to let the group know where you stash your keys, just in case.  And you win all the style points for planning ahead with treats in the take-out rig including food, beverages and blankets!
Knowledge is power.  In a rescue situation your knowledge and energy become great rescourses.  Consider taking courses such as CPR, Swiftwater Rescue and Wilderness First Aid or a Wilderness First Responder course.  These trainings are fun and interesting and can be very helpful.
Thank you for reading and keep the conversation of safety going.  Let us know what you pack for a successful day on the river!  I wish you all the very best of whitewater and river exploration.