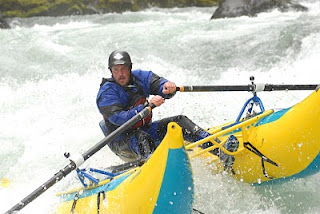 It's that time of year again… March is right around the corner, and so is the Upper Wind River Festival!
On March 17, 2012, kayakers and rafters alike will flock to the Upper Wind River, near Carson, Washington, to take part in the first downriver race of the 2012 Western Whitewater Championships:Â a race series featuring downriver races in Oregon, Washington, and California.
The Upper Wind is a Class IV section of the Wind River, featuring everything from boulder gardens to ledge drops, and big water. (Wind River Description)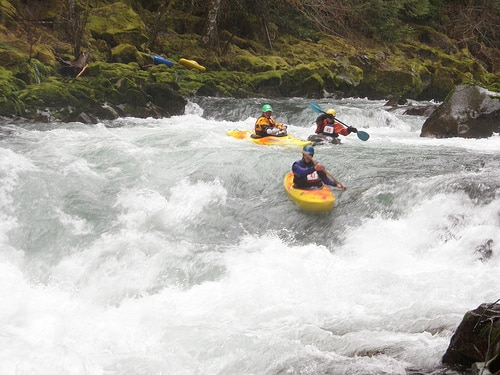 The race itself is about 3 miles long, averaging racers 25-30 minutes to complete the course. The start is located at the bridge at the put-in near Stabler, WA, and the take-out is located a few miles downriver. Open to rafters (R2), kayakers (long and short boat), and catarafters, it's a great race, whether you're a first timer, or a veteran racer! If your not the competitive type, it's a great chance to paddle the river, set safety for the racers, or cheer them on! Spread the word, and come on out for a day of fun on the Upper Wind River! Hope to see you there in a few weeks!
Start and registration at Stabler, WA put in.
Registration begins at 10:30.
Safety boaters depart at 11:40.
Registration ends at 11:45.
Mass start kayak 5 minutes after that.
Mass start R2 raft 5 minutes after that.
Mass start cataraft 10 minutes after the R2 start.
1 or more Catarafts will be designated as sweep boats.
All safety boaters will sweep the course with this final group.
Racer's Meeting 2010
 R2 Mass Start
Racers getting ready…
More Information