What happens when four lady paddlers are getting married in the same year? You have a Bachelorette Paddle! Earlier this month, 9 ladies from Oregon, Washington, Idaho, California and Montana, rallied for a 4-day wilderness self-support on the South Fork of the Salmon River, near McCall, Idaho.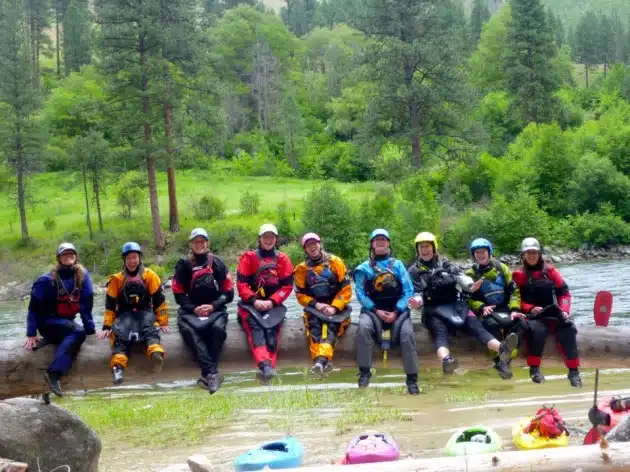 At 5.25 feet, the South Fork of the Salmon is 32 miles of class IV/V big water rapids, amazing scenery and wilderness, followed by a 22 mile paddle out on the Main Salmon River. There are a few places were civilization intrudes on the run but for the most part the river is very remote.
Put-in: EFSF Salmon at Canton Creek
Take-out: Vinegar Creek on the Main Salmon River near Riggins, Idaho.
A permit is not required for the South Fork of the Salmon, but is required for the Main Salmon. Day use permits on the Main Salmon is free and can be acquired ahead of time.
Day 1: Leaving Hood River, Oregon at 4:45am, four of us ladies rallied the drive to McCall, Idaho, where upon stopping in the driveway of what was later decided as "not the shuttle driver's house," our van broke down. Let me re-phrase that: our van lost its power steering and power brakes. YIKES! With some creative thinking, we commandeered another shuttle vehicle, and limped the van to the nearest garage, where it lay to rest for the course of our trip.
Two hours later, we were at our put-in on the East Fork of the South Fork of the Salmon, where one twisted ankle and one nosebleed later, we made it on the water. Phew! Fortunately, but unfortunately, I managed to leave my camera's SD card at home and have survived on photos from the rest of the group…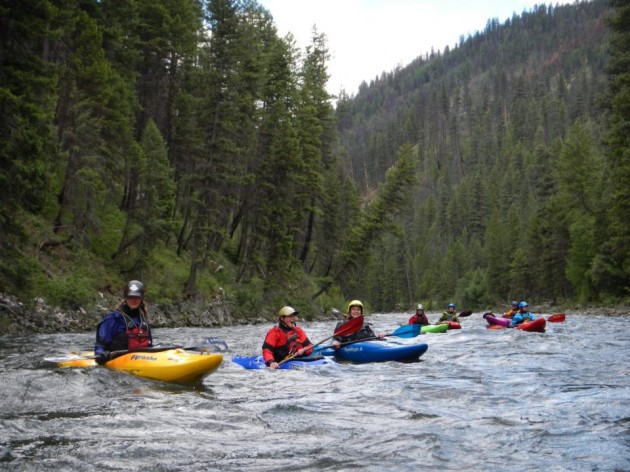 The EFSF Salmon from Canton Creek to Deadman's Bar is fairly continuous class IV, full of big waves, holes, and scary ferries: a good warm up to the SF Salmon.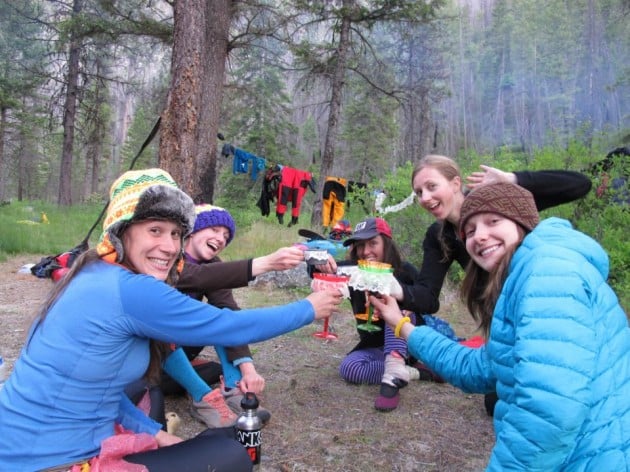 Fine Dining at Deadman's Bar
Day 2: The "Moment of Truth" had arrived, as I crossed my fingers everything would fit in my Diesel 80. I'd managed to pack my life into two Watershed Futa Floatbags, and one WaterShed Chattooga bag that would fit between my legs.
Two-piece breakdown paddle
SPOT Device
Headlamp
First aid kit
Jetboil stove + fuel
Nalgene bottle
Pin-kit
Throwbag
1 union suit
1 long sleeve shirt
1 short sleeve shirt
1 pair of jeans
1 superhero costume
Food (tortillas, cheese, dried veggies, apricots, fruit leathers, Gu Gel, etc)
Miscellaneous Bachelorette Party Favors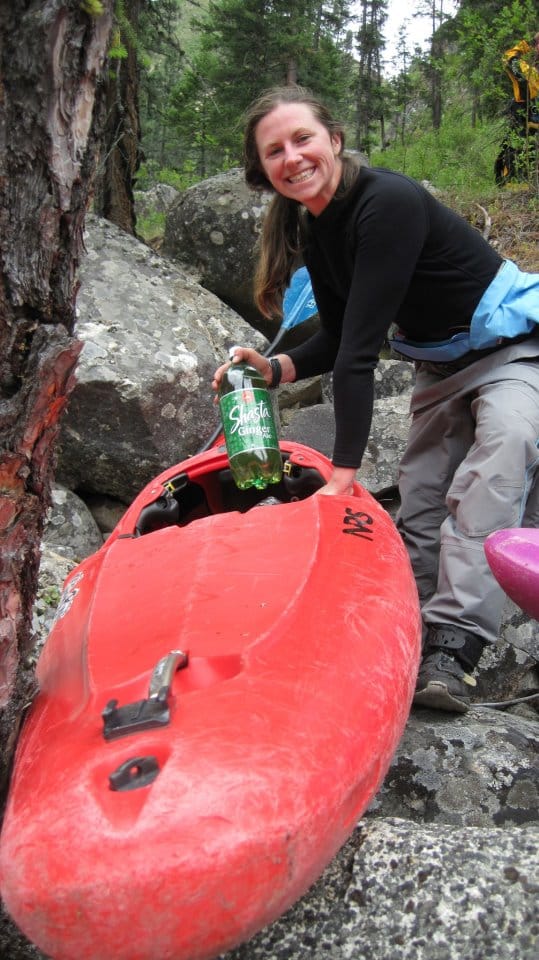 The answer is YES! It all fit! (Although a few things had be carried by Super Bride, Susan Hollingsworth (above) and her Green Boat- Thanks Susan!
Ladies on the SF Salmon
Day two saw our incredible group of ladies paddling a total of about 13 miles: the remaining mileage on the EFSF plus another 6 or so miles on the South Fork Salmon. We camped just below the first major rapid, Devil's Creek, also known as Monica's rapid for her HERO boat-scouting maneuvers.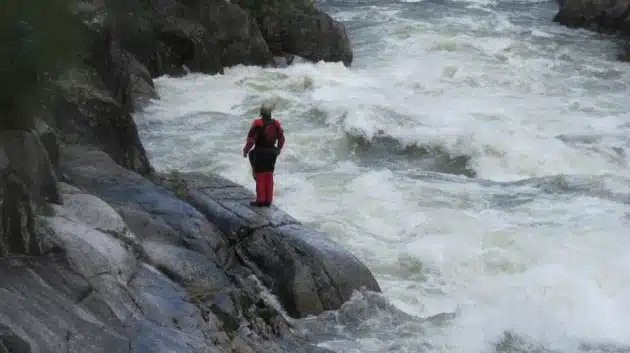 The bottom half of Devil's Creek Rapid
One rowdy class V below Devil's Creek, we camped on river left alongside a waterfall, just in time to get to camp, set up our tarps, and the rain to start. Don't worry… this is a Bachelorette Trip. The rain only lasted an hour, we still got to go on a mini hike to the falls, enjoy fun Bachelorette Party antics, and some delicious Pad Thai! Yumm!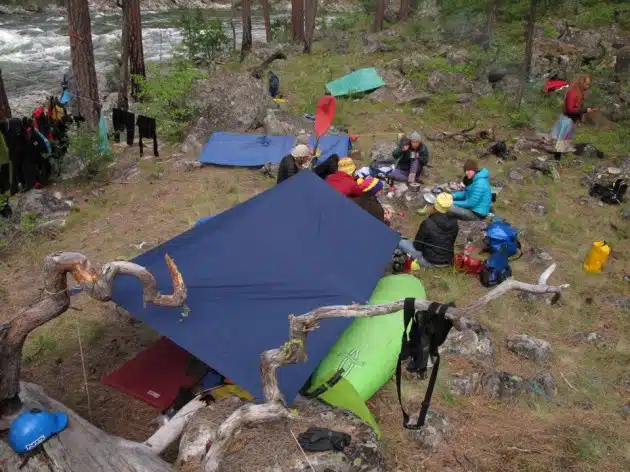 Home Sweet Home on Night Two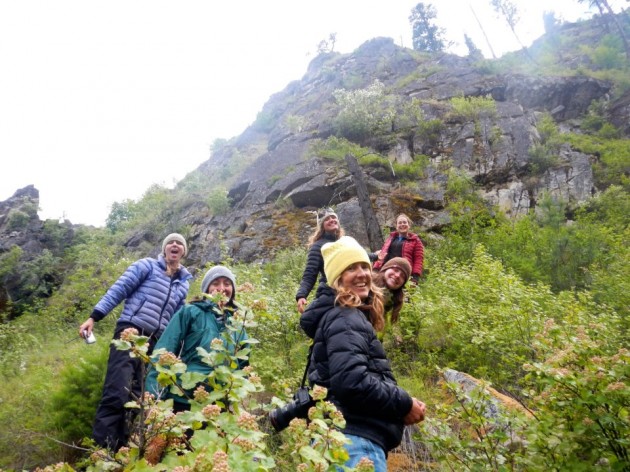 Mini-hikes…
 to cool overlooks
Day 3: Best Day Ever! The morning broke with sunny, clear blue skies, and the girls were ready for a day of big rapids. According to the guidebook, we had 2-3 more major class IV/V rapids below camp, followed by 5-6 miles of boogie water, and then the big ones would start stacking up, ending in Scissors, and Falls Creek Rapid. After Falls Creek Rapid, the S.F. Salmon mellows out to the Confluence with the Main Salmon.  Luckily, for us Hood-Riveran folk, there were fun little creek lines through most of the rapids for us to enjoy while the Montana gals enjoyed the big water lines.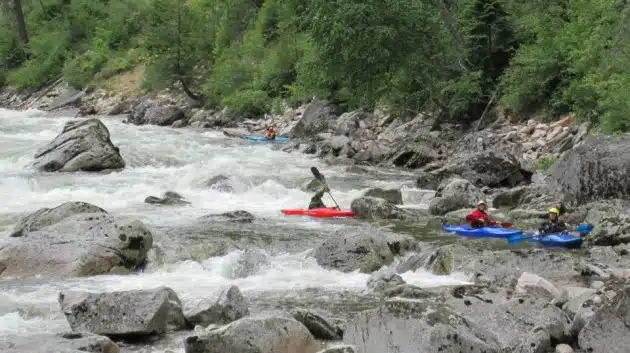 Hood River ladies finding the creek lines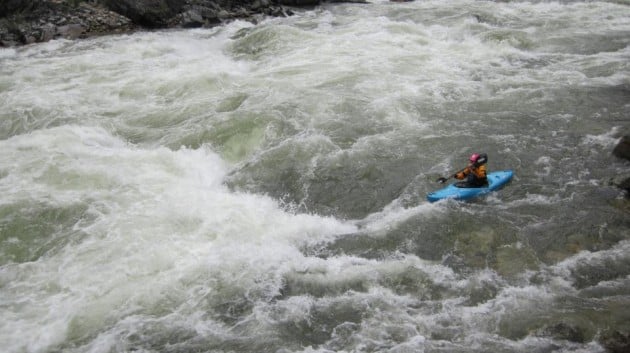 Christie Glissmeyer sneaking past a big hole at the bottom of Surprise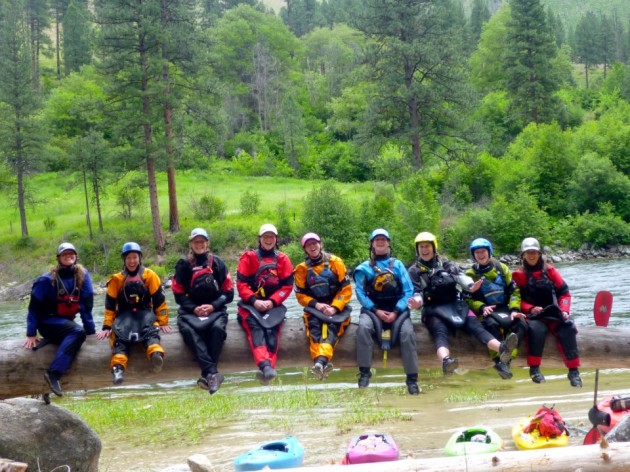 Lunch Break: (from L to R) Cheyenne Rogers, Stacy McBain, Anika Lofts, Emily McGinty, Christie Glissmeyer, Susan Hollingsworth, Monica Gokey, myself, and Lana Young
Just as we were all starting to get the chills, the big rapids started to stack up, and we had hit Falls Creek Rapid.  A quick stretch for the legs, and we ladies were out for a scout.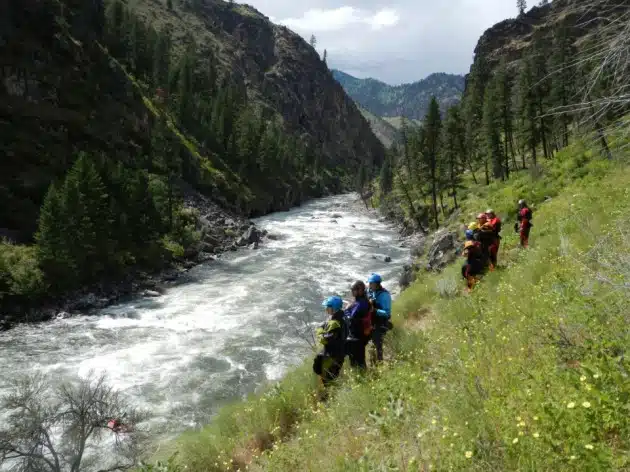 Scouting Falls Creek Rapid
 The Crux of Falls Creek Rapid
The river immediately mellowed out below Falls Creek Rapid, lending itself to beautiful scenery and the beginnings of civilization. At the confluence with the Main Salmon, we came upon our last camp: Confluence Camp.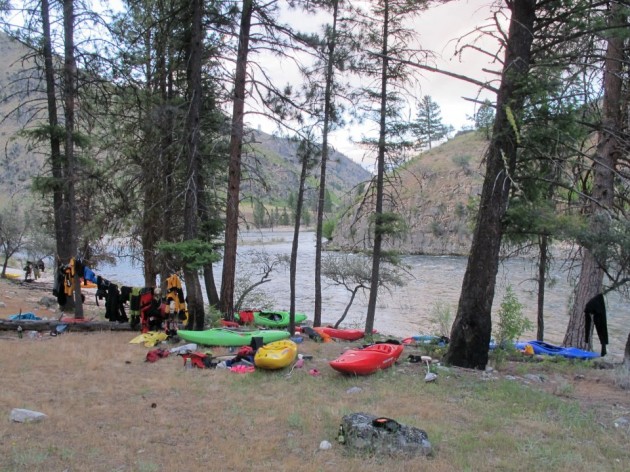 Gear Explosion at night 3's Confluence Camp
Within minutes, a jet boat pulled up, delivering delicious beverages, and offering us all a jet boat ride. YES! we said, and the Superheroes of the South Fork took off downstream to Mackay Bar, where we had our first re-entry into normal life: played volleyball, hung out in a teepee, and smelled some tasty pizza.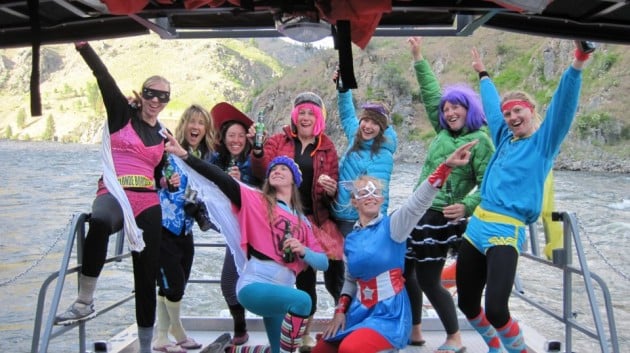 Forty Brodies later, we made it back to camp, and settled in to Mediterranean Night: Falafel, tabouli, tomato, cucumber, hummus, tzatiki sauce. Best river meal ever!
Day 4: The last morning on the river, we finally had blue skies and WARM weather! About time! After a relaxing breakfast in the sun, we  took off downstream toward the take-out, making sure to wash our hair on the way. Dr. Bronner's soap does wonders!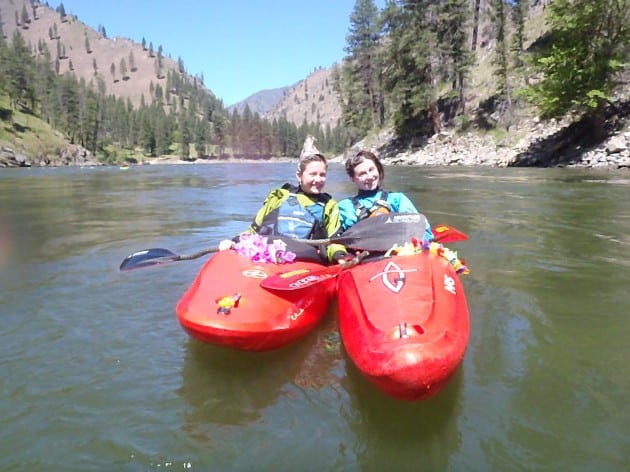 Myself, Susan and our Ruby Red boats
22 miles later, we made it to Vinegar Creek only to see our van completely FIXED and ready to roll. Only in Idaho does your shuttle driver not only run your shuttle, but fix your van while your out. Perfect!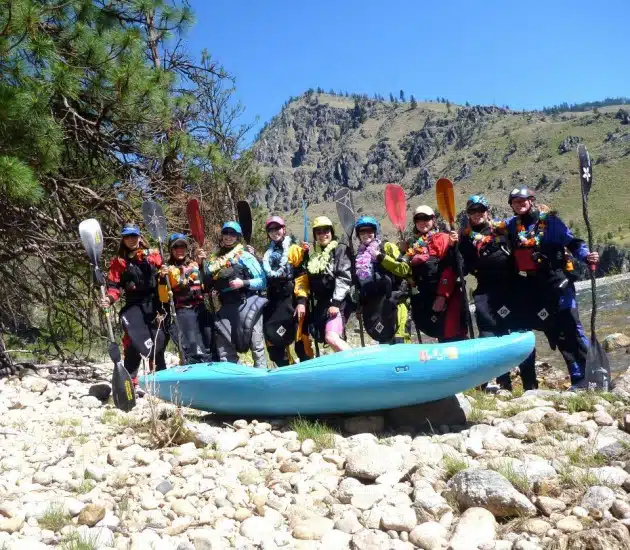 Bachelorette Party of the Century- COMPLETE!
See you on the river,
Kim Russell