Rogue Paddling Workshop for Women
Length: 4 Days
2023 Dates: June 27-30     *FULL*    Please let us know if you would like to be added to the waitlist for the 2024 season.
Includes: 4 days of world class instruction, camping and meals
Cost: $1095                 All prices per person are subject to a 5% Government Use and Service fee. (Guide Gratuity not included in price)
Prerequisites:
No previous experience is required
Difficulty:  This course is designed for total beginners, up to beginning intermediate paddlers and is conducted on a section of river that is rated class 1-3  Each day's run is chosen based on student's comfort and ability.
Progression:  This course will prepare students for our 4 day Intermediate kayak trip on the Wild and Scenic Rogue. (Class 2-3+)
(Tent and camping gear rental available. Email us at  [email protected] for pricing and details.)
Students under 18 years of age please contact us BEFORE REGISTERING for prior approval.
Sundance Kayak School is an authorized BLM Special Recreation Permit holder.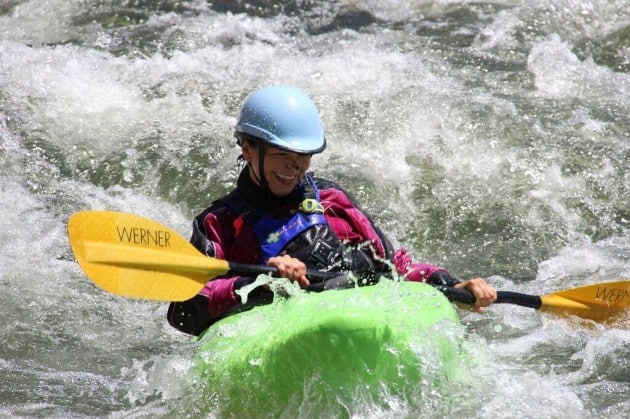 Workshop Details
Sundance is proud to offer this class 1-3 kayaking clinic! This paddling workshop is specifically designed for women interested in learning to kayak, refining skills or taking it to the next level. Lead by female kayak instructors, this women's kayak class is all about building skills and confidence based on a women specific learning style.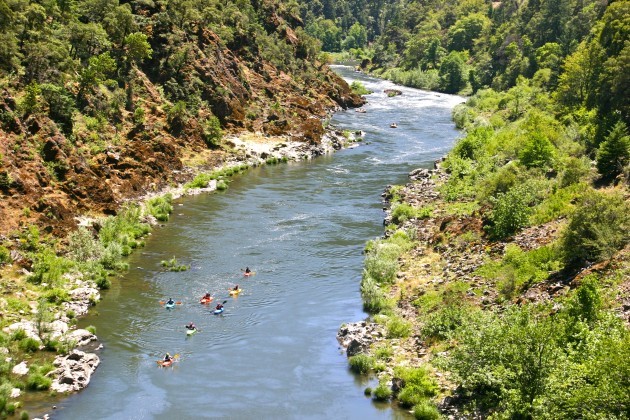 During the day, your instructors will teach you the paddling skills required to successfully read and navigate rapids. Our home for the clinic is a beautiful rustic campground, right on the banks of the Rogue River in Oregon – far away from the hustle and bustle of daily life.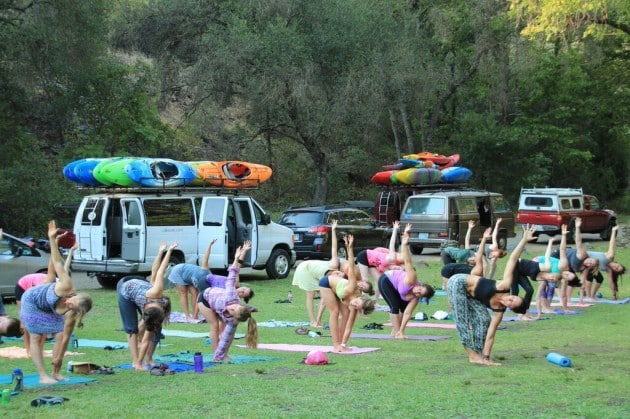 Afternoons, after we return from kayaking, enjoy the restful accommodations  of Indian Mary Park.  Hike or relax riverside with a book and your favorite beverage while ospreys fish in the pool near our camp! Stroll on the green grass, play a round of disk golf, or rally some teammates for a volleyball tournament. Indian Mary park features hot showers, and a lush, beautiful landscape.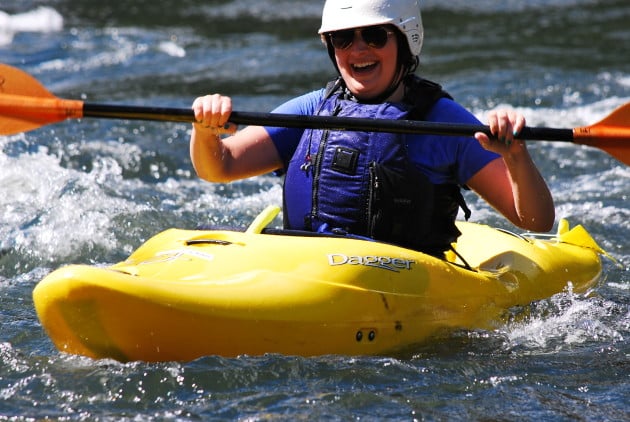 At night, you'll enjoy stargazing and socializing at Indian Mary campground, on the banks of the Rogue River. Recount stories from the day's adventures around the fire, while Sundance chefs prepare dinner.
This clinic is intended for women of various skill levels!
The Rogue River has lots of different sections to choose from rated class I-III. Each day we will run a different section of the Rogue River, depending on your goals and skill level. If you have never kayaked before, you will start by being introduced to whitewater kayaks and paddling gear. You'll discover you can easily get out of the boat and we'll learn a few basic strokes to put you in control. If you are already paddling and are looking to refine your paddling technique and improve your confidence on the river, you will begin with a kayaking skills assessment and review, we'll refine some of the basics and start working on you goals!
It's true that women and men learn differently
Learning in an all-female environment, allows women to work at their own pace in a supportive and friendly group setting. As the days progress, we will build your repertoire of strokes and maneuvers, while strengthening your foundation of basic technique. With supportive, enthusiastic kayak instructors at your side, you'll be free to try new things and experiment. Start playing in the rapids and learn your limits of stability, risking tip-overs and discovering the fun and excitement the river holds. We'll help you anticipate your next move and react to each and every wave, building the skills and confidence you need to start running rapids!