Experience the Wild and Scenic lower Rogue River Canyon!
Click this link to book your trip!   Wild and Scenic Rogue!
2023 Start dates:  June 11- 14
Price:       $1745  (Hardshell Kayakers),       $1345 (Rafters)
Trip length: 4 days
Prerequisites:  Class III experience and a solid kayak roll.  The course is designed for kayakers with intermediate skills.  This is the perfect opportunity to receive individual instruction and paddle Class III rapids on the Rogue River in Oregon with experienced instructors by your side.
Includes:  World-class instruction and raft support operated by Oregon River Experiences.
Sleeping Accommodations: Most trips are primitive camping.  Occasionally we also offer lodge based trips. Please inquire if this interests you.
The Rogue River offers the perfect setting for teaching white water kayaking: Deep river gorges, spectacular scenery, abundant wildlife and classic Class 2-3 whitewater! The wild and scenic Rogue River Canyon is one of the best wilderness kayak trips in the country!  Our most popular multi-day trip, the Rogue is a world class river journey. Sundance is proud to offer this unique, 35 mile expedition in partnership with Oregon River Experiences, an Oregon-based outfitter who offers rafting trips on some of the finest rivers in Oregon.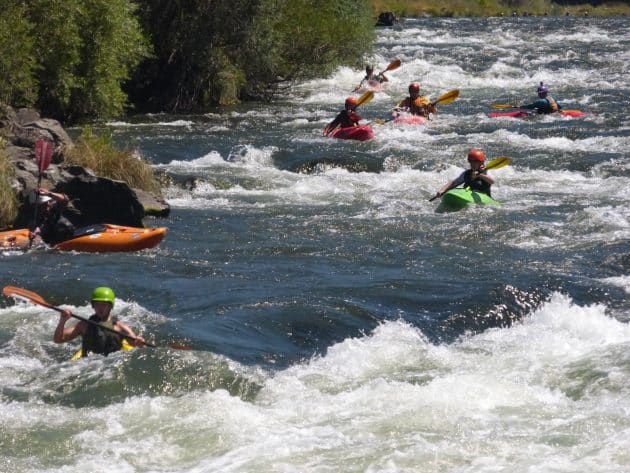 "The Experience was the highlight trip of my summer.  I had been "making" it down the river, but that's it. I felt like I was kayaking a bunch, but reached a point where I wasn't getting any better. The instruction I received from your great group of instructors has been so helpful. They gave me so many techniques/paddle strokes to work on and they helped me with the bad habits I had developed. There wasn't a single instructor that I didn't think was great and enjoyable to be around, both on and off the water." – Angela Warder, Olympia, WA
Itinerary
Day 1: The first day you will hone your skills in preparation for the downstream river trip. You'll have the chance to practice your roll and your strokes while getting acclimated on the Rogue River. As the day progresses, we'll start to head downstream and into the Rogue Wilderness.
Days 2-4:  The next few days will be spent on the Wild and Scenic section of the Rogue River from Grave Creek to Foster Bar. Each day, we cover between 6 and 14 miles, running some rapids in formation, and stopping to play in others. Time will be spent focusing on reinforcing your skills and developing your technique.  You will start your day by waking up in one of the most beautiful places on earth.  Coffee on the beach or morning hike while sun filters through the trees, marveling at the beauty as otters and ospreys start their day as well.
Mid-day we will stop for lunch and you will have an opportunity to stretch, relax, or work on skills like the kayak roll. We usually arrive in camp by late afternoon and once we've made camp, you're free to engage in a variety of leisure activities. Nap, fish, swim, read a book, practice skills with an instructor, go on a hike, or sit back and relax as dinner is cooked riverside. Horseshoes anyone? Take a moment to enjoy the sunset and Dutch oven dessert before settling in by the fire under a blanket of glittering stars.
Last day: We typically arrive at Foster Bar, our take-out point, between 1:30 and 3:00 PM. Once we've unpacked, you'll board a van for the ride back to Galice. The ride takes about two hours on scenic Bear Camp Road through the Siskiyou National Forest. We arrive back in Galice between 4:30 and 6:00 PM
"An Instructional Expedition"
It's your choice whether you want less structured time for the pure enjoyment of running the river, or a structured progression for advancing your skills. Our instructors will be there for your safety and guidance at each of the rapids and can provide individualized instruction throughout the trip.
Kayak Instruction
The intermediate kayak curriculum is based on the concepts of play and efficiency, and particular emphasis is placed on precision river-running, as well as creative and freestyle river-running techniques. Many of the concepts that we will work on involve foundations of playboating that can be applied to any type of boating, in any kayak. You will be exposed to features like large waves, strong eddies and powerful current. You'll have opportunities to learn good boat control in tight passages, around ledges, and how to make complex maneuvers in fast current. We'll help you bombproof your roll and enhance your river reading, while working on skills like eddy hopping, bracing, ferrying with precision, draw strokes, and surfing.
Sundance can help you expand your kayaking mind. Take advantage of the river's natural features and harness the river's power to work for you. The surface of the river will start to become a moving terrain full of features that you can use. Our programs are flexible and are designed to accommodate the paddler's needs & goals. You will gain skills and become a safer, more confident boater.
Experience the Lifestyle!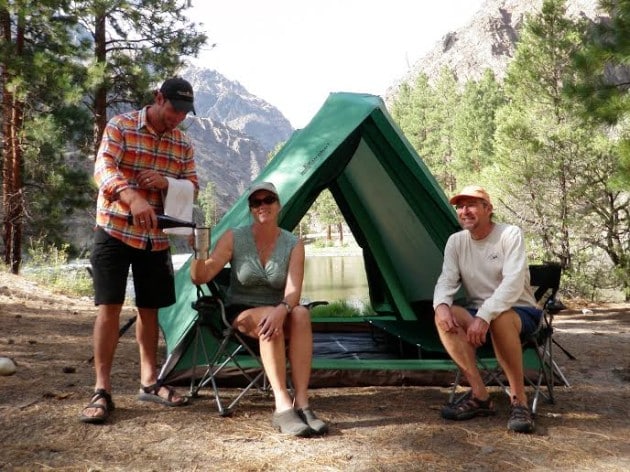 If you have never been on a multi-day, wilderness, whitewater river trip, you have got to come see this! Relax, unplug, enjoy world-class instruction and become the kayaker you've always wanted to be. With raft support, bringing friends or loved ones along for the adventure is simple and easy.
As you move down the river, you will paddle through dozens of exciting rapids, revel in the peace and beauty of deep gorges and be amazed by the breathtaking scenery and wildlife along the way. The timelessness and beauty of the Rogue will inevitably work its magic on you and the crazed pace of the real world will, for a moment, become distant and inconsequential.
Scenery and Wildlife
Although the Rogue River is famous for its outstanding whitewater, it is also world renowned for its breathtaking scenery and abundant wildlife. Eagles and Osprey rile the skies and often splash down to catch fish. Great Blue Herons stand still and noble, fishing and Black bears lumber along the banks in search of blackberries and salmon. You may even be lucky enough to see a family of otters playing in an eddy.
Hiking
Each day's camp is an opportunity to explore and the Rogue River is perfect for hiking. With an established trail running the entire length of the river, you are never far from a good hike. Historical points of interest such as Battle Bar, the miner's cabin at Whiskey Creek, and Zane Grey's cabin give visitors a taste of the Rogues fascinating cultural history. The many beautiful, shaded creeks along the way make the perfect hike for hot days, with deep places to swim and picture perfect waterfalls. Exploring the Rogue River canyon is an experience that you will never forget.
Join Sundance and ORE for the river trip of a lifetime!
Sundance Kayak School has been an outfitter on the Rogue River dedicated to guided kayaking trips for over 50 years! All of us here at Sundance love this river and its canyon, and each year we are delighted to share them with visitors from all over the world. Come see the Wild and Scenic Rogue River for yourself!
Oregon River Experiences is an owner-operated, customer-focused company and our goal is to ensure you have a memorable experience. Rafting with O.R.E., we create authentic river experiences designed to meet your vacation needs. Our experienced staff professionally handles all details for you. You'll feel safe and return home with memories to share for a lifetime. ORE is the licensed permit holder for this trip.