Youth Summer Kayak Camp
Length: 4 Days
2023 dates:            July 3rd – 6th               
Includes: World Class instruction, all lodging, food and equipment
Cost:     $1095
Ages: 10-15
Book your Youth Summer Kayak Camp Below Ages 10-15
Are you looking for a fun and unique summer camp? Our Youth Kayak Camp is perfect for you! Kayak on the warm waters of the Rogue River and sleep under the stars each night. Our days will be filled with kayaking, hiking, games and adventure. We believe if kids have an opportunity to experience kayaking at a young age, it will have long lasting positive impacts on their life.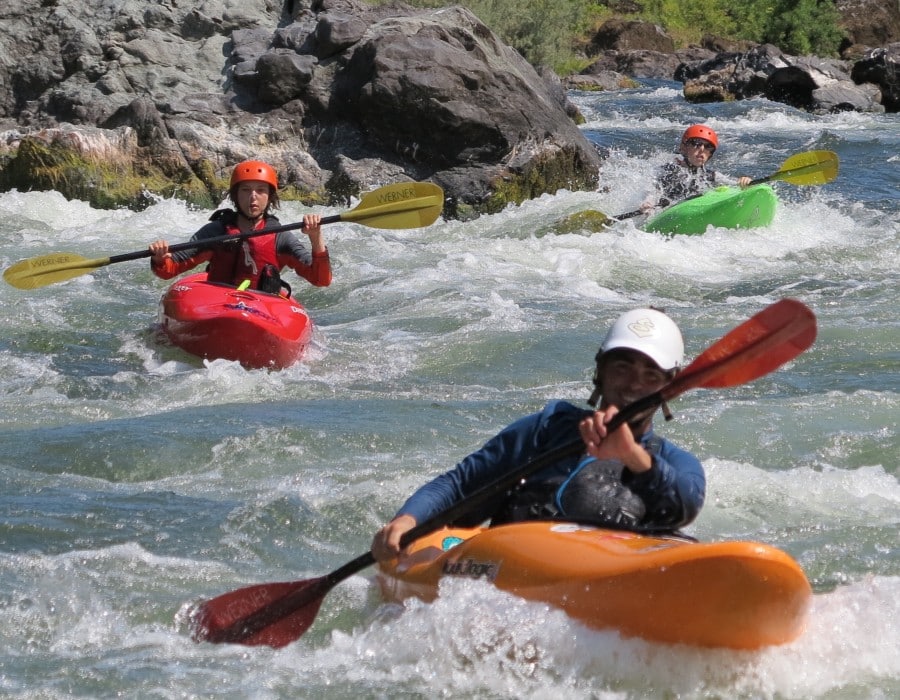 Our mission at Sundance Kayak School:
Foster an environment of responsibility, respect and self-confidence in our youth camps, and promote life-skills development. We maintain a safe river classroom, emphasizing fun, while learning through creative games. We believe a hands-on teaching approach encourages kids to get the most of out of their experience.
This course is about building. Building good friendships, building character, building teamwork, building self-esteem. The mental and physical challenges of kayaking, coupled with the support and guidance from instructors and peers, creates genuine life-skills development.
Many of the skills learned in kayaking, fit into the bigger picture in our natural world. Whitewater kayaking is the perfect way to explore the natural world and experience nature up close, while having fun and being active. It is also a low impact sport both on the environment and on the body.

 Your child's experience:
• They will learn about essential kayak gear and safety skills needed in kayaking.
• Our instructors will help them build a solid foundation of skills which they can continue to master even after the camp is complete.
• They will learn about boat control, edging, and "wet exits". Wet exits teach them how to get out of the kayak if it tips over. Believe it or not, gravity does most of the work!
On-water lessons:
• Hydrology and Basic river safety
• How to "read" the water, strategy for avoiding obstacles, and technique for running the river safely, all in the name of having fun.
• Our instructors will demonstrate various acceleration and turning strokes to help student effectively navigate their new craft.
• As the week progresses, these strokes will allow us to stop at will, play, and move around the river efficiently.

Off-water activities:
• Focus on exploring our natural surroundings, fun and games.
• Creative projects and games
• Examining the colorful natural history of the Rogue River: fishery, history with dams, and its future as a Natural resource.
• By the end of the camp, students will have some understanding, of river geology, the ecosystem, and the future of conservation.
Sample of a Day's Schedule:
8:00 am: Breakfast
9:30 – 12:00 pm: Morning Kayak Session
12:00 – 12:45 pm Lunch and Free Time
1:00 – 3:30 pm Afternoon Kayak Session
3:30 – 5:00 pm Project Time
6:30 pm: Dinner

The Rogue is a perfect place to learn how to kayak.
A protected wilderness since 1968, students will be kayaking in the warm waters of the Rogue River. It has deep channels, and a pool-drop nature. The difficulty of this river is perfect for beginners. In addition, there are many different runs to choose from. These friendly conditions ensure a high success rate for young kayakers.
Our four-to-one student/instructor ratio: Makes certain each student will receive appropriate instruction and adult supervision.
The facilities: The camp will be held at either Indian Mary Park, or Almeda park on the Rogue River.
Our Instructors: All the instructors at Sundance share an infectious appreciation for nature and the outdoors. Some of us even started kayaking in youth programs like this one!