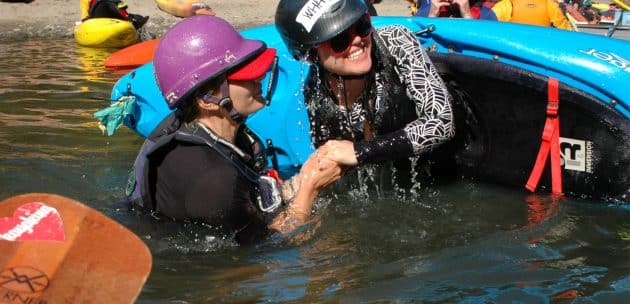 Women learn differently than men. As a female kayaker I have benefited from both male and female influence but some of the most significant moments in my learning processes have been with Women.
Sundance Kayak School offers an all-women kayak workshop through our partnership with California Women's Watersport Collective. California Collective is a group that began with a duo of women that help teach in a way that empowers women to be confident on the river and off the river too!
And kayaking is just part of the experience! In addition to superb kayak instruction, yoga, massage and evening workshops will also be offered. This class is held in a supportive and enthusiastic learning environment and takes a holistic approach to outdoor recreation.
What is included in this 4-day getaway? World-class instruction, camping, dinner and a variety of on-land activities, including river safety, nutrition, yoga and more! We even have a massage therapist on-site to unwind and relax in the evening.
Is this class for you? This class is for every woman! Whether you are getting into a kayak for the first time or refining skills, this workshop is perfect for kayakers of any level of ability and experience. Please don't hesitate to call or email us with any questions 541-708-3601.
Please visit https://sundancekayak.com/4-day-womens-whitewater-kayaking-clinic or https://www.evensi.us/rogue-river-holistic-paddling-clinic-merlin/197794349 for more information!
The Sundance Team is excited to meet you. Let's go paddling on the Rogue river!
Sincerely, Brianna Lyons.