Redwood Coast Whitewater Sampler
Length: 5 Days
Season: March-April
Course not being offered in 2020.  Please inquire about our 2021 dates!
Includes: World-Class Kayak Instruction, Kayak, Paddle, Meals, Transportation, Sleeping Accommodations**
Cost: $1395
Looking to tune up your kayaking skills? Our Class 3-4 Redwood Coast Sampler Week is the perfect opportunity! Whether you're trying to gain confidence on new runs or improve your paddling technique this week will grow your skill base both physically and mentally.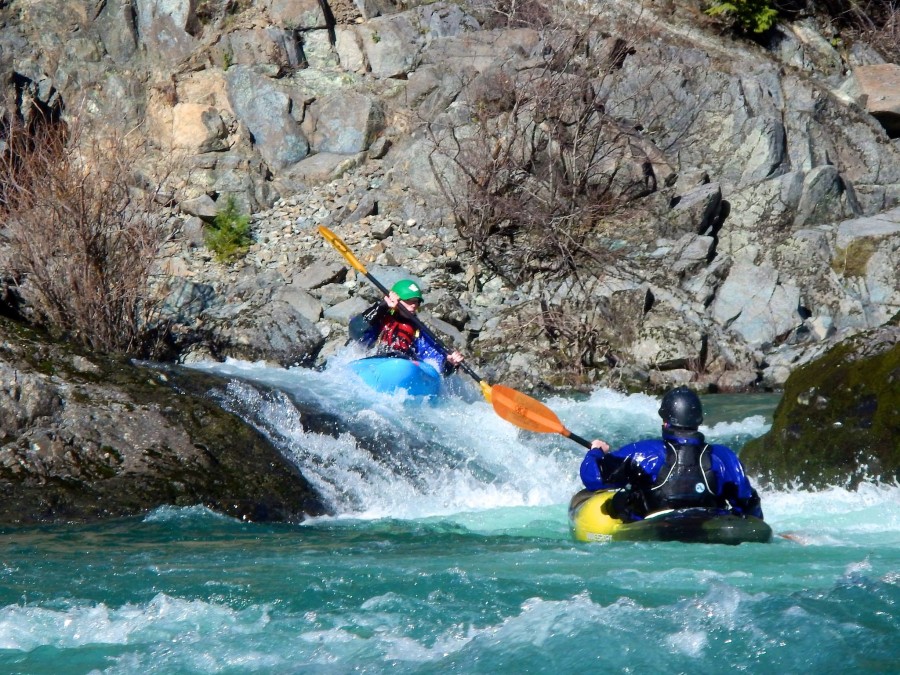 Prerequisites:
Comfortable on Class 3+ Rivers
Reliable Roll on Class 3
A Desire to Challenge Your Skills
Course Objectives:
Water Reading and Boat Scouting
Reliable Roll on Class 3+
Efficiently maneuver through rapids
Gain confidence on new runs
Refine paddling technique
Become Smooth & Comfortable on Class 4
Understand group dynamics and river leadership with an emphasis on judgement and decision making
Instructors: Joining us from the East coast is Nathan Nahikian with Potomac River Outfitters and Sundance's own J.R. Weir. Both Nathan and J.R. are certified Instructor Trainers with the American Canoe Association (ACA).
Location*: This class will be taught on the Smith River in Northern California in the Six Rivers National Forest. The Smith offers 3 runnable forks with several runs ranging from Class 3-4 and Class 4+. Each day we will access the group's goals and decide accordingly where to go.
The Smith River
Breathtakingly beautiful, the Smith River flows crystal clear through the heart of the Redwood country and is one of the "crown jewels" of the Wild and Scenic River system.
This is California's only undammed, free-flowing river. Famed for its water quality, the Smith is widely considered to be one of the premier "salmon strongholds" of the lower 48.
With over 300 miles of runnable whitewater, this river is a kayaker's paradise. The Smith offers a smorgasbord of paddling choices, from class 1 to class 5, and lends itself to a fantastic progression of runs, for kayakers looking to improve their paddling.
Join us and sample some of the best paddling and beautiful scenery that the Northwest has to offer. The California north coast, old-growth giant redwoods, and crystal clear rivers await you.
Not Included:
Paddling layers, both inner and outer
Helmet, PFD, Skirt
Alcoholic Beverages
Guide Gratuity
*The Smith River is a free-flowing river dependent on rain for optimal flows. Typically it flows at great levels during the winter months. In the event the Smith River is deemed too low, or too high for this class, we will use alternate rivers comparable in difficulty.
**We will be renting a house on or near the Smith River. Depending on flows, we may travel to other rivers and these accommodations may change. Other lodges, hotels, and camping are also possibilities. Hotel rooms would be shared with the option to pay for your own room if preferred.